Belgian online sales considerably improved in 2015. 6,8 million Belgian residents concluded 81 million online transactions for 8,241 billion Euros. Holland accounted for 142 million online transactions for a total amount of 16,07 billion Euro.
"These figures illustrate that Belgium has catched up hugely in the e-commerce area. We are now in a better European average and thus leaving many European countries already behind us, "explains Patricia Ceysens, President of BeCommerce.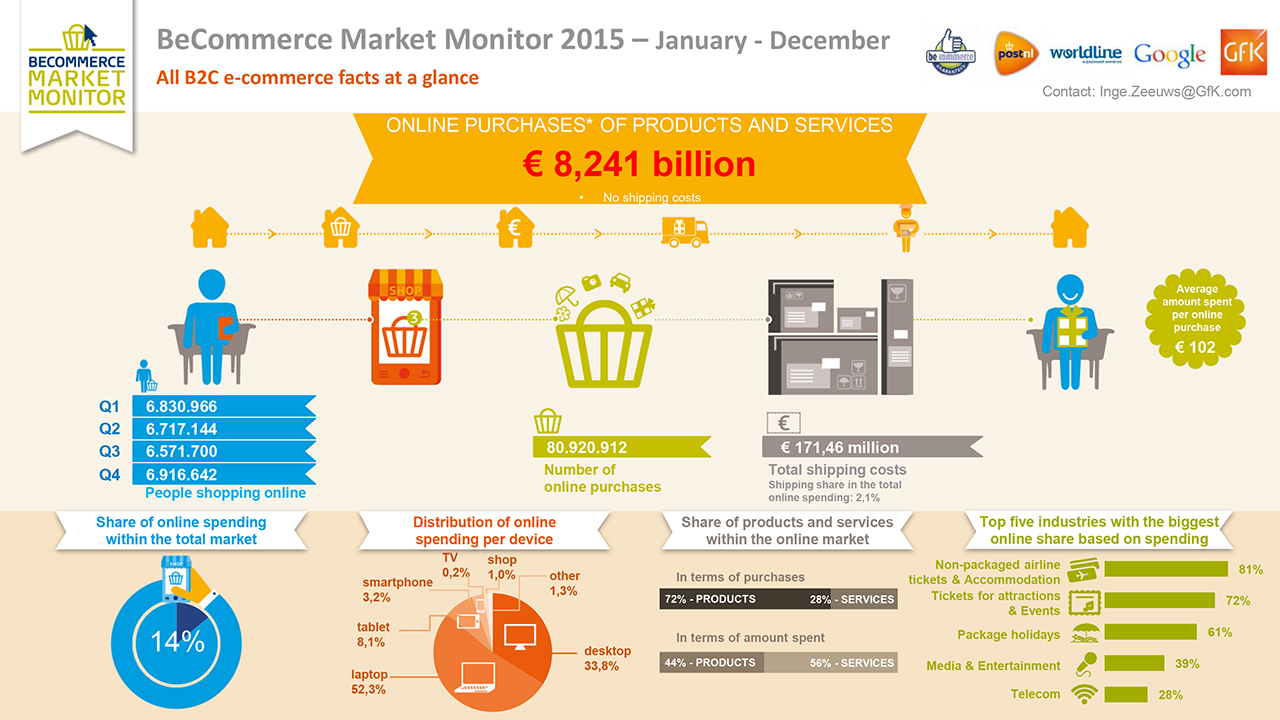 75

% of the Belgian

population aged 15

years or older

has

shopped online

.

In

the fourth

quarter alone,

they spent

2.17

billion

online

.

In

total there were

22.35

million online

purchases on

the

counter.

The consumer

sends

an average of

97

euros

per

online purchase.

Belgian e-commerce

is experiencing strong

growth that

continues

year

after year

,

and

which

will continue to

be

expected to continue

, "explains

Patricia Ceysens

.
15% of all expenditure in the fourth quarter for goods and services was spent online. What is striking is that e-commerce accounts for only 8% of total spending when it comes to purchasing a product, while the majority of services (60%) can be purchased on the internet.
Read the original article in Dutch on BeCommerce
According to the Dutch "Thuiswinkel Markt Monitor", online sales in the Netherlands in 2015 increased with 17,4% to 142 million transactions for a total of 16,07 billion Euro.